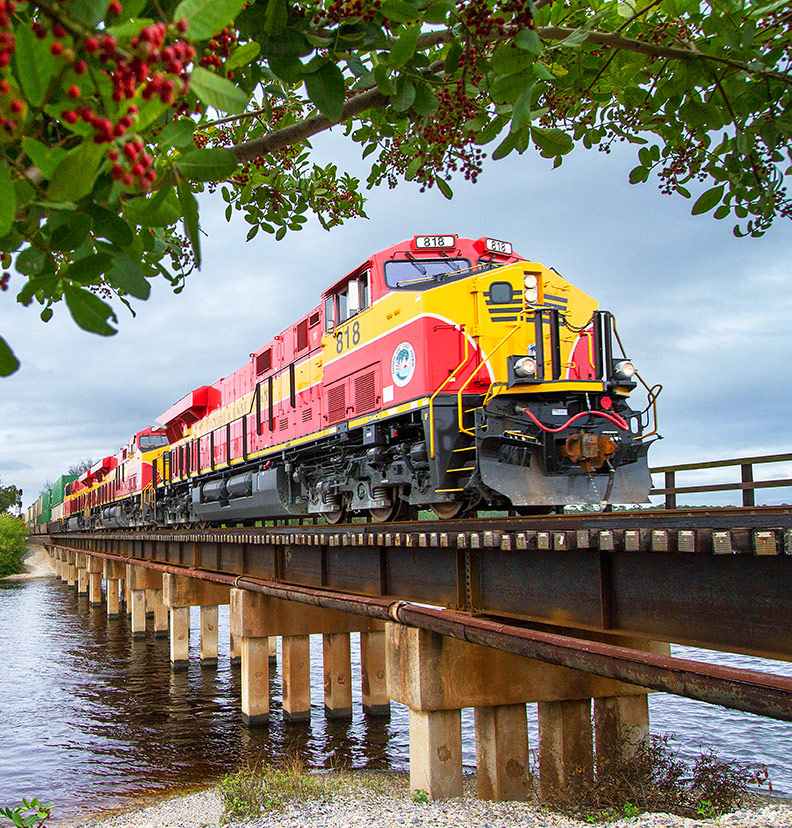 Our Commitment: Sustainability
Sustainable supply chains
We are committed to providing our customers with sustainable intermodal and carload supply chain solutions, providing reduced:
Highway congestion
Air pollution
Greenhouse gas emissions
Illegal dumping
We are concerned about the environmental health of our right-of-way not only on the surface, but also in the soil, groundwater, and air. Illegal dumping of solid or hazardous waste, construction/demolition debris, (and trash in general) can pose a threat to the environment.
To report illegal dumping please contact our
Environmental Department
at
(904) 279-3277
.
A single freight train can take the load of 280 or more trucks – equivalent to 1,100 cars – off overcrowded highways.
LNG as a fuel Source
We have chosen to use LNG, or liquefied natural gas, as a fuel source for our locomotive fleet, as it is cleaner and more environmentally friendly than traditional fuels. We have Federal Railroad Administration (FRA) concurrence to run LNG as a locomotive fuel for revenue service across our network. We are committed to coordination with all key stakeholders - communities, emergency responders, customers and employees – in regard to our LNG initiatives and provide transparency through our online portal FECR Connect.

For more information on LNG, please contact the Natural Gas Council.